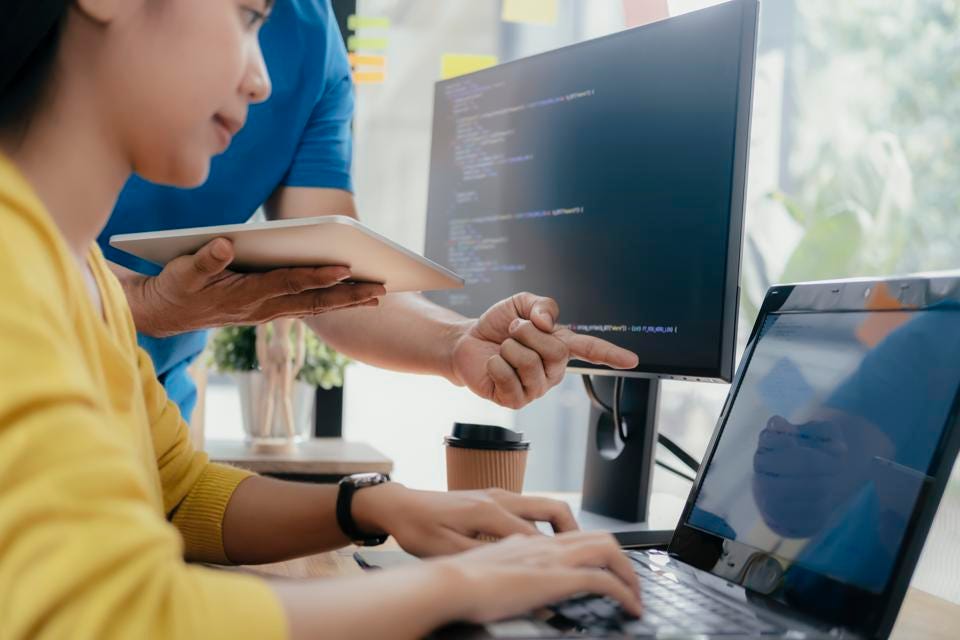 Article published in Forbes on January 4th, 2022
As the CEO of a large-scale website production company, I constantly get the same questions:
How much does building a website cost?
How long will it take to build my web presence?
What are the advantages of working with an agency? Why not hire a freelancer?
I always answer: The best solution is the one that aligns with your business strategy.
For some clients, it's best to launch a site quickly at a low cost and scale later. For others, it makes sense to invest more at the start, building a bulletproof platform that's both scalable and flexible. In other words, the best solution depends on your short- and long-term goals and your budget.
Here are the steps I recommend going through as you and your team plan how to build your digital platform:
1. Clarify your platform's objectives.
What is the role of your website or app in your overall business model?
Who is your audience? Are they mobile-first? What media do they consume — videos, articles, audio or a combination?
What does success look like? What is the website or app's main goal?
How will you drive traffic to the website?
2. Build your content.
Make an inventory of the content you currently have (i.e., copy, images, video, etc.).
Map out the process for creating the content you know you'll need in the future for you to reach your stated objectives.
Brainstorm any ideas for new content — images, videos, podcasts or articles — you want to produce.
Determine the time and cost for creating new content, and set aside a budget.
3. Organize your content based on your objectives.
Review your content with an expert or a person you trust in your field. Take advantage of having an outside eye and do a preliminary organization.
Do the same exercise with your developer. Note the differences between the perspective of a technology professional and someone in business.
Work with your product management team (which might be yourself) to reconcile both points of view.
4. 'Build' your website on paper.
Conceive of the site map with your developer — a text document, some slides or a pen and paper will do.
Organize your content into this map and use this as the starting point for the site's design and development.
5. Always remember the 1/10/100 rule.
The 1/10/100 rule is essential when budgeting for revisions with your designer:
1: Fixing a mistake during the planning phase will cost $1.
10: Fixing that same mistake during the development phase will cost $10.
100: Fixing it when the website is already built will cost $100.
Plan ahead to avoid costly changes down the line.
6. Finalize the home page design before starting any development work.
Agree on how your brand will be represented on this website.
Determine logo, buttons, CTA, images, etc. for the homepage.
7. Choose a development partner you trust.
I recommend using agile methodologies. This approach allows you to iterate during the development process and make changes on the go. Keep in mind, though, that a set price for a project will likely limit your ability to make changes.
Be sure your development partner has a quality analysis (QA) department so they can test across different platforms and operating systems before launching.
Remember that in this business, like many others, you get what you pay for.
8. Budget for 25% contingency.
Assume the project will go at least 25% over budget.
There will be some changes and improvements you will not think of from the planning phase.
9. Create a monthly budget for maintenance and enhancements.
Adapting to technology updates and enhancements will be necessary if you want to succeed; plan for constantly optimizing the flow of your platform.
10. Use analytics to measure and improve your website.
Review analytics and stats weekly or at least once a month.
Try A/B testing if you can afford it and constantly tweak, test and review changes based on users' behavior and trends.
One final note: Pay attention to partners and agencies that try to rush. It's important to clarify objectives, establish the timeframe and propose a budget. At my company, we believe that investing time, energy and money during the website planning phase undoubtedly pays off down the road. An agency or partner that pushes to get a project off the ground without going through the proper process and planning is likely focused on one-off projects, not ensuring your site helps you reach your business goals.