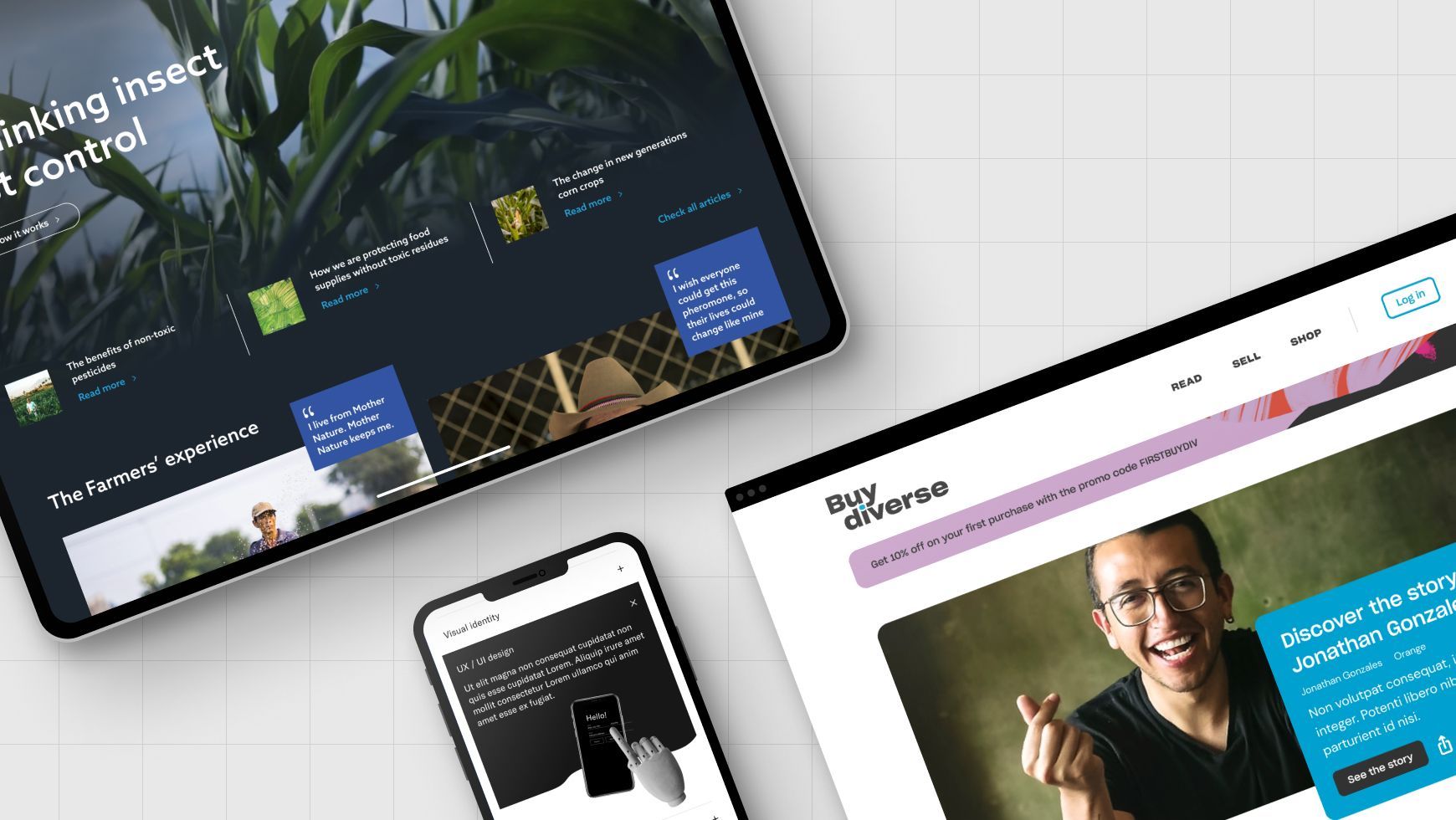 Your web design is responsible for making the first impression on your prospects or site visitors. Great design can make you, and poor design can break you.
Take the following stats into consideration:
75% of people form their opinion of a website based on its aesthetics, according to Digital Appeal.
And it takes users only 0.05 seconds to form an idea of a website, according to a study by Taylor and Francis Online
So user experience often begins upon first glance at the website, and in today's modern landscape, everything moves at lightning speed.
And what customers deem to be acceptable is continuously evolving. The bar is getting higher every day.
Customers are simply accustomed to beautiful design and engaging copy. They're expecting to be dazzled by your brand.
So for your website to be successful and convert visitors into customers in today's digital environment, a compelling copy must be paired with responsive and engaging website design.
As brands scramble to keep pace by adjusting their business models to accommodate these increasingly high expectations, the gatekeeper of first impressions—the design of your website— must also keep up with the times.
What Is Different About Modern Web Design?
It's all about user experience. Period.
What customers want, customers "need" to get.
And when the modern consumer visits your website, what they'll want - and expect - is an aesthetically pleasing experience, credibility, and user-friendliness.
Now let's examine each of these expectations.
An Aesthetically Pleasing Experience
You never have a second chance to make a first impression. And in fact, 94% of first impressions are related to your site's web design, according to Webfx.
In today's competitive market, you may only have one chance to convert a first-time visitor to your website into a paying customer. And web design that is visually pleasing and engaging is more likely to convert visitors into loyal customers.
Basic aesthetic details, like layout, whitespace, bold contrasting colors, and engaging graphic elements, play a significant role in modern web design.
Credibility
Modern web design must communicate professionalism and credibility. And 75% of website credibility is determined by web design, according to , according to Webfx.
Also, according to marketing guru Neil Patel, "Surface credibility—a visitor's subjective opinion of your website (e.g. I like the design, this looks trustworthy, great content, this page is confusing, etc.) is all that matters when you're asking them to convert".
Web design that appears poorly constructed or is difficult to navigate will negatively impact your credibility. And without trust, even the best business model won't be able to convert visitors into customers.
User-Friendliness
Today's consumer is impatient and growing increasingly so every day.
For a modern web design to be effective, web designers must take this to heart. And it's not just time that matters to today's consumers. Overall user-friendliness and ease of use are also important.
Consider the following statistics:
In 2006, 47% of people expected a web page to load in two seconds or less, according to Forrester.
In 2018, 53% of people of mobile users will leave a site that takes longer than three seconds to load, according to Google.
And according to Steve Krug, author of the book Don't Make Me Think:
"The fact that the people who built the site didn't care enough to make things obvious—and easy—can erode our confidence in the site and the organization behind it."
For a modern web design to be deemed user-friendly, the following should be true for the user:
Within the first few seconds, it's easy to understand the value proposition.
Finding the right information flows naturally.
Content is so clear and compelling that the user might keep scrolling even after finding what they were looking for.
At Stateside, our passion is translating ideas into digital experiences. We did just that with one of our clients, Provivi, we delivered a modern multi-language website with a completely new UX designed especially for their wide range of stakeholders: Farmers, Investors, Academia, and Lawmakers.
Whether your business is just getting off the ground or needing a redesign to accommodate a growing business, we can help with our professional website design services.
Our certified engineers, developers, and designers can collaborate with your existing staff or serve as your on-demand development team.
We are 100% committed to providing you a website that is:
Tailored to fit your unique needs
Responsive and mobile-friendly
Professional and secure
Designed with SEO best practices
Scalable
Optimized for data management
Our teams are flexible and highly skilled to build any site, from landing pages to eCommerce or membership sites; Stateside is your solution for beautiful, conversion-focused, and modern web design.
Take the first step toward harnessing the power of modern web design with Stateside. Contact us today.